NEWS
BOR announced the nominees for the next UP President
At a special meeting held on October 16, 2022 by the Board of Regents (BOR)-University of the Philippines, the nomination of six (6) candidates for the next UP President position was approved. One of the candidates will succeed President Danilo L. Concepcion and will become the 22nd President of the University of the Philippines.
The candidates the following: Dr. Patrick Alain T. Zanza, Atty. Salvador B. Belaro Jr., Atty. Angelo A. Jimenez, Dr. Fidel R Nemenzo, Dr. Benito M. Pacheco and Dr. Fernando C. Sanchez, Jr. They will be present their plans and programs for UP at the Public Forum on November 11, 2022, Friday, 1:00 p.m. at the Cine Adarna, UP Diliman. Live streaming of the public forum will be made available to all UP constituents.
_________________________
UPB's LUDIP approved by PAC
After a series of multi-sectoral consultations, the Vice Chancellor for Administration, Dr. Santos Jose O. Dacanay III and Chancellor Corazon L. Abansi presented UP Baguio's Land Use and Development Infrastructure Plan (LUDIP) to the members of the Presidential Advisory Committee (PAC) of the University of the Philippines System on September 14, 2022. Approved by PAC, UP System, the LUDIP of UP Baguio is now with the Board of Regents for review and approval.
The UP Baguio LUDIP Team is headed by Vice Chancellor Dacanay III with Ms. Irene Enriquez, Arch. Lloyd B. Asim, Engr. Anselmo Himmiwat and Ms. Rosel Oryan. UP Baguio's LUDIP will serve as the blueprint for campus infrastructure development.
______________________________________________________________
Chancellor officially formed the Crisis Management Committee with multi-sectoral membership
Chancellor Corazon L. Abansi officially formed a Crisis Management Committee (CMC) with multi-sectoral membership on September 15, 2022.
The Crisis Management Committee (CMC) was first structured by UP Constituent Units (CUs) as a response to the COVID-19 pandemic and to address natural and man-made disasters experienced by CUs. Expanding the scope of this Committee, the Chancellor assembled representatives from the varied sectors of UP Baguio to ensure that all UPB stakeholders will be safe and protected during natural and man-made disasters. Subsumed in the list of crises to be addressed by this committee are special concerns for red-tagging incidences and protocols on the conduct of face-to-face academic activities and other onsite events. As part of its functions, the Crisis Management Committee is a policy making body and primary mover during crisis incidences. A series of participatory discussions will be conducted next month to finalize the UPB Crisis Management operations.
The UP Baguio Crisis Management is headed by the Chancellor, with Office of Public Affairs Director Cecilia Fe L. Sta Maria-Abalos as Vice Chair. The members are Dr. Liezel Magtoto for the Office of Safety and Health and Student Affairs, Prof. Victoria Diaz for the Disaster Risk Reduction and Management Committee, Ms. Irene Enriquez for the Office of the Vice Chancellor for Administration, Mr. Jose Kym Alvaro for UP Systems Network Office, Mr. Regie Suguitan for the Security Office, Atty. Sharon Rose Carolino for the Legal Affairs Office, Ms. Julie Taguinay for the All UP Academic Employees Union, Ms. Sophia Trinidad for the University Student Council and a Representative from the All UP Workers Union.
______________________________________
MK wins the 2022 MGM AVP competition
Museo Kordilyera (MK)-UP Baguio is awarded the winner for the 2022 Museum and Galleries Month (MGM) Museum Audio-Visual Production (AVP) Competition of the National Commission for the Culture and the Arts (NCCA). MK bested other entries of museums and galleries in the Philippines. Congratulations, MK!
______________________________________
Chancellor Corazon L. Abansi administering the oath-taking of Jethro Bryan S. Andrada,
the new Editor-in-Chief of Outcrop.
Andrada named as the new EIC of Outcrop
October 19, 2022, Jethro Bryan S. Andrada is named as the new Editor-in-Chief (EIC) of Outcrop for the academic year 2022-2023. Chancellor Coarazon L. Abansi administered the oath taking on October 21, 2022. Andrada will succeed Ms. Joemariequeen Del Rosario as Editor-in-Chief of UP Baguio's official student newspaper.
With the transition of UP Baguio to face-to-face classes, the new EIC of Outcrop will now adjust to on-site newspaper management operations.
Thank you, Ms. Del Rosario for your service as EIC. Congratulations, Jethro!
_____________________________________________________________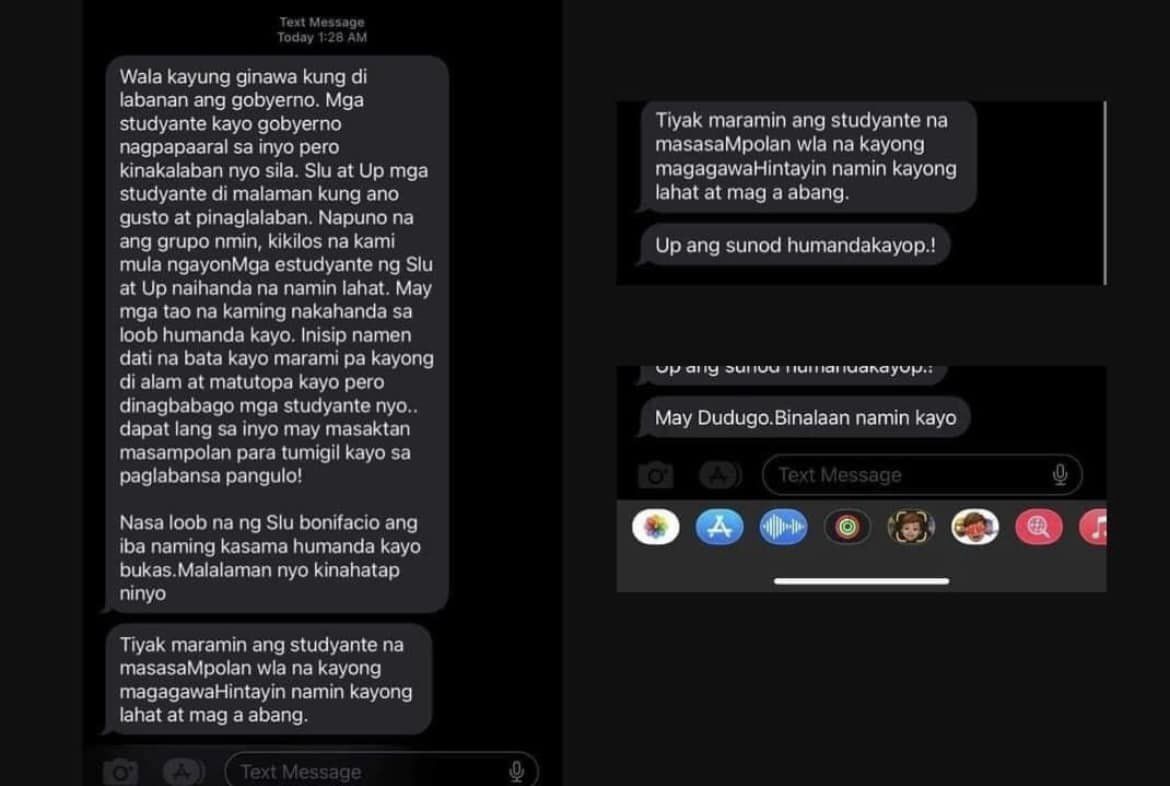 Text message received by UPB USC Chair Sophia Trinidad.
UPB Student Council Reps received violent threats
September 27, 2022, the UP Baguio University Student Council Representatives received threatening text messages from an unknown sender.
UPB University Student Council Chair Sophia Trinidad reported that she received the text message through Saint Louis University's Student Council Representative. The text message contains violent threats against Student Council Representatives of UP Baguio and Saint Louis University because of alleged resistance against the Marcos government.
UP Baguio has heightened alert for campus security. Monitoring of the safety of UPB students is being implemented.
The UP Baguio University Council released a public statement condemning this violent threat against UP Baguio students. The UP Baguio University Council continues to stand against mislabeling, red-tagging and harassment against students.
_____________________________________
UP Baguio gradually implements on-site classes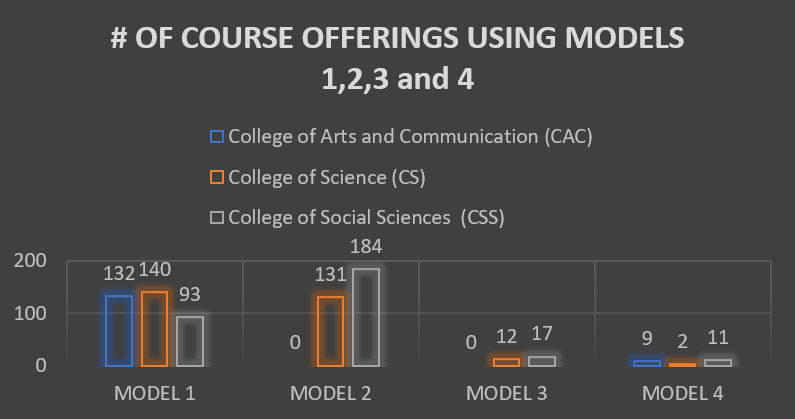 Number of Courses using Models 1,2,3 and 4.
Percentage of Courses Taught Online and with Face-to-Face Modalities
With UP Baguio receiving its Safety Seal from DILG-Baguio last August 30, 2022, offered courses in the undergraduate and graduate levels started the gradual transition to on-site classes.
To foster university culture and ensure the delivery of quality of education, UP Baguio implemented the following modes of teaching and learning: MODEL 1 – purely online classes, MODEL 2 – blocks of independent online study and intensive face-to-face sessions (i.e., lectures are conducted online, but laboratory work are done on-site), MODEL 3 – rotates f2f sessions and asynchronous online learning, and MODEL 4 – HyFlex; for lecture sessions, some students are onsite and others are online. For this semester, UP Baguio has a total of 577 courses offered, and 212 of these include a face-to-face modality. For the coming semester, UP Baguio will offer more courses with face-to-face modality.
____________________________________________________________
UP Baguio recognized by DILG-CAR
UP Baguio received a plaque of recognition from DILG-CAR as one of their Learning Resource Partners. The recognition was received by Vice Chancellor for Academic Affairs Dr. Rosemary Gutierrez on October 25, 2022 at Hotel Elizabeth, Baguio City.
As part of its mission, UP Baguio continuously conducts research in the fields of science, social sciences, arts and communication for capacity-building and local governance strengthening in the Cordillera Region.