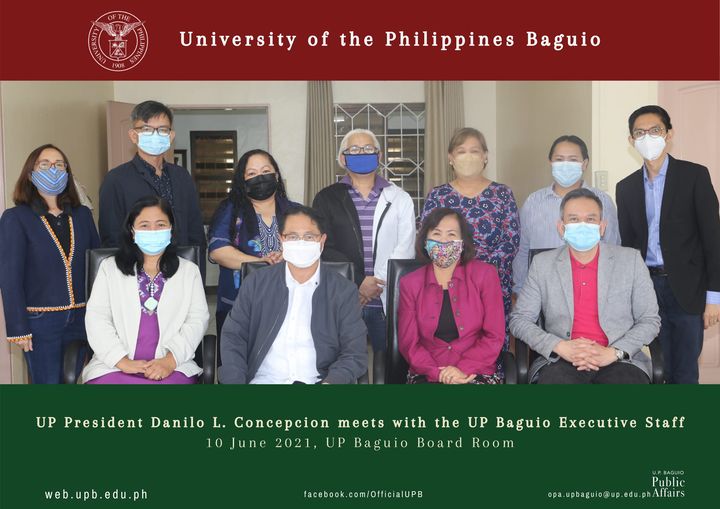 University of the Philippines System President, Atty. Danilo L. Concepcion, had a meeting with the University of the Philippines Baguio Executive Staff led by Chancellor Corazon L. Abansi, on June 10, 2021, at the UP Baguio Board Room.
President Concepcion discussed with the officials the challenges faced by UP as well as ways of moving forward especially in the pandemic and post-pandemic context. He shared insights and possible opportunities for the various constituent universities of the UP System in looking into becoming a "university of the future" while sustaining its being the "University of the People" dedicated to its trifold mandate in teaching, research and creative work, and public service, in the interest of the Filipino nation. The president was also apprised of the general status and the developments in UP Baguio.
The UP Baguio Executive Staff, headed by the Dr. Corazon L. Abansi, is composed of Vice Chancellor for Academic Affairs Dr. Rosemary M. Gutierrez, Vice Chancellor for Administration Dr. Santos Jose O. Dacanay III, College of Science Dean Dr. Dymphna N. Javier, College of Social Sciences Dean Prof. Arellano A. Colongon Jr., College of Arts and Communication Dean Dr. Jimmy B. Fong, University Registrar Prof. Jocelyn R. Rafanan, Director of Student Affairs Dr. Charita A. Delos Reyes, Director of the Cordillera Studies Center Dr. Ruth M. Tindaan, and Director of Public Affairs Prof. Junley L. Lazaga.
This is the first official meeting of the executive staff with President Concepcion since Chancellor Abansi's appointment as the head of the institution.