UP Baguio's Oblation, lighted for this season. Photo by: Prof. Roland Rabang.
Chancellor's Christmas Message
This Christmas Message was delivered by the Chancellor during the UP Baguio Community Lunch on December 15, 2021 at the Museo Kordilyera grounds.
Today, I want to share with you a poem to celebrate this season. I like to think that this poem gives us a glimpse of what we experienced for almost two years. I will share with you excerpts from the poem titled "Amazing Peace" by Maya Angelou.*
"Thunder rumbles in the mountain passes
And lightning rattles the eaves of our houses.
Flood waters await us in our avenues.
Snow falls upon snow, to avalanche
Over unprotected villages.
The sky slips low and grey and threatening.
We question ourselves.
What have we done to so affront nature?
We worry God.
Are you there? Are you there really?
Does the covenant you made with us still hold?
Into this climate of fear and apprehension,
Christmas enters, streaming lights of joy, ringing
bells of hope and singing carols of forgiveness
high up in the bright air.
The world is encouraged to come away from rancor,
Come the way of friendship.
It is the Glad Season.
Thunder ebbs to silence and
lightning sleeps quietly in the corner.
Flood waters recede into memory.
Snow becomes a yielding cushion to aid us
As we make our way to higher ground."
The poem takes us back to the rapture and changes – the volatile, uncertain, complex and ambiguous life we had for almost two years. The poem speaks of how we cope despite the difficulties and the efforts of our colleagues, health workers and responders to make survival a little bit easier and to ensure a safe campus shows selflessness and dedication.
While the COVID-19 crisis reminds us of our shared fragility, it also demonstrates how everything and everyone is truly connected. So, I'm taking this opportunity to thank all of you (the faculty, REPS, admin, retirees and alumni) for staying with us through the difficult times and coming today for this community lunch. The poem also reminds us of the promise of hope and peace, our simple get-together today, despite its limitations, is our expression of hope and peace. In Maya Angelou's poem, "it is Christmas time…a halting of hate time… hate which crouches breeding in dark corridors), a harmony of spirit, a comfort of courtesies…" and security for our loved ones.
We are finally brought together as one family standing together to build a better future for UP Baguio as we celebrate our 60th anniversary. Let me take this opportunity to thank all the academic units, offices, students and alumni who contributed to the many activities we had for the year 2021, our 60th year.
On this platform of peace and hope, we look forward to 2022, mindful that the coming days and months will continue to bring us serious challenges and great trials as we prepare for the blended and face-to-face classes, fast-track our infrastructure projects, make the campus safe for everyone, and mind the health of our students and employees. We will diligently take our tasks, confront the problems and issues and positively believe that there are moments of hope, grace and redemption.
It is in these moments of hope, and as we celebrate Christmas, that the seed of renewal is planted for enduring this time of uncertainty and building a brighter future for our beloved UP Baguio. So let us welcome 2022 with renewed hope and may we return to work with double the zeal.
I end with my wish for a peaceful, joyful and meaningful season to all of you and your loved ones. Merry Christmas!
---
*Angelou, Maya. (2005). "Amazing Peace: A Christmas Poem." In Amazing Peace: A Celebration by Maya Angelou. U.S.A.: Random House.
---
Chancellor Abansi delivering her Christmas message
during the community lunch.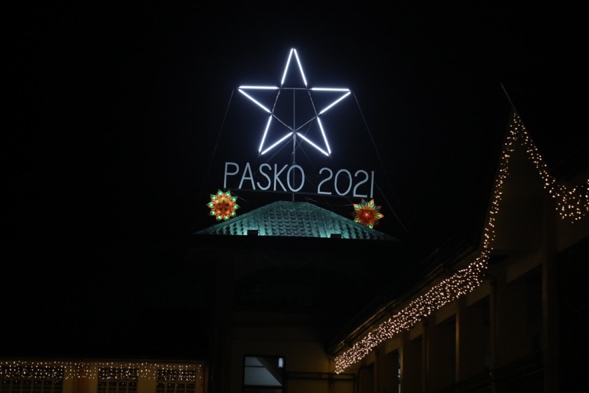 "Pasko 2021" displayed on top of the roof of
Iskolar ng Bayan Building. Photo by: Prof. Roland Rabang.