BULLETIN AND REPORT
UP Baguio Awarded as Top-performing HEI for Board Examinations by CHED
by: Don Juanito C. Escobar
From the Left are Atty. Ryan Estevez the Executive Director of UniFAST,
Chairperson Jose Prospero De Vera III, Dr. Dymphna Javier,
Dean of College of Science-UP Baguio, Congressman Go and
other recipients of Top performing HEIs.
UP Baguio was commended as a top-performing Higher Education Institution (HEI) for board examinations by the Commission on Higher Education (CHED) during the 2021 Gawad Parangal held December 16, 2021 at the Benguet State University, La Trinidad, Benguet. A plaque was awarded to the school by CHED Chairperson Dr. Jose Prospero De Vera III, together with the Chairman of the Committee for Higher and Technical Education for the House of Representatives and Baguio Congressman Marquez Go. This recognition was due to the outstanding performance of UP Baguio graduates who took the Licensure Examination for Teachers (LET) November of this year.
The award was received by Dr. Dymphna N. Javier, Dean of the College of Science, in behalf of Chancellor Corazon L. Abansi and the university. Rightfully so, Dr. Javier's presence was fitting as Ms. Cherish Ivy Fabricante, LPT (BS Mathematics) and Ms. Precious Anne Gwyneth Azcueta, LPT (BS Mathematics) are from the College of Science. These alumnae ranked second and tenth respectively in the recently concluded Licensure Exam for Teachers (LET).
The attendance of UP Baguio in the Gawad Parangal also serves as a reaffirmation of its partnership with CHED in helping fulfill dreams of Filipino college students by giving them a chance to study free of financial obstacles. This mission is translated through CHED's undergraduate scholarship programs currently being offered at the UP Baguio—The Tertiary Education Subsidy (TES) Program, and the Tulong Dunong Program (TDP). As of 2021, the university has two (2) TES beneficiaries, as well as 24 TDP grantees. Dr. De Vera hopes that the programs in the university continue to expand their reach giving students from impoverished families in the Cordillera and in neighboring regions access to higher education.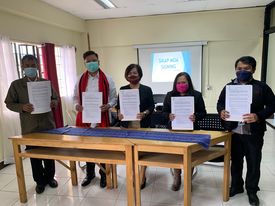 From Left to Right are Education Supervisor II, Mariano D. Marchan Jr,
CHED-CAR Director Demetrio Anduyan, Chancellor Corazon L. Abansi,
Graduate Program Office (GPO) Head-UP Baguio Prof. Ana Isabel Caguicla,
GPO Staff Don Juanito Escobar.
UPB Recognized as a DHEI-Sikap Grant
By CHED
by: Don Juanito Escobar
The University of the Philippines Baguio has been officially recognized by the Commission on Higher Education (CHED) as a Delivering Higher Education Institution (DHEI) for the Scholarship for Instructors' Knowledge and Advancement Program (SIKAP), a scholarship program for graduate student in recognized DHEIs across the country. The said acknowledgement was formalized with the signing of a Memorandum of Agreement (MOA) between UP Baguio and CHED at the CHED-CAR Office in La Trinidad last December 07, 2021. Signatories for the university include the Chancellor, Dr. Corazon L. Abansi as well as the Head of the UPB Graduate Programs Office, Prof. Ana Isabel D. Caguicla. The commission was represented by the Regional Director Dr. Demetrio Anduyan Jr. and the Head of the K to 12 Management Unit, Dr. Mariano Marchan, Jr.
The SIKAP grant has two (2) different implementation models: (1) the individual model, in which the graduate student applies for the program through the CHED Regional Office in his/her respective district, and (2) the DHEI model, where the student applies for the grant directly through the CHED-recognized DHEI the student is matriculating. The university, through the MOA that was signed, will now be eligible to accept applicants under the DHEI model (following the guidelines set in CHED Memorandum Orders no. 16 and 28 Series of 2021 for the implementation of both the full-time and part-time student grants). Grants administration for the SIKAP is to be conferred to the UP Baguio Graduate Programs Office (GPO), in coordination with the Office of Scholarships and Financial Assistance (OSFA).
Full-time grants under SIKAP can be applied to only by faculty members in CHED-accredited Higher Education Institutions (HEIs), while part-time grants can be enrolled by both teaching and non-teaching personnel in the aforementioned HEIs. UP Baguio has been given a total of 150 slots for both grants, distributed accordingly among the different graduate programs—for the full-time grant, 10 slots each are given for the Master of Arts in Language and Literature Program, Master of Management Program, Master of Science in Conservation and Restoration Ecology Program, Master of Mathematics Program, and the Doctor of Philosophy in Mathematics Program; 20 slots are offered for the newly-introduced Doctor of Philosophy in Indigenous Studies Program, amounting to 70 slots. For the part-time grant, the same allocation of slots applies to each graduate program, with an additional 10 slots provided for the Master of Arts in Social and Development Studies Program, amounting to 80 slots.
There are currently eight (8) UPB graduate students who are applying for the SIKAP following the individual model, but will soon be included in the list of scholars for the DHEI model once the necessary arrangements have been made by the GPO. Mr. Bender Ambas, one of the administrative staff of the K to 12 Management Unit at CHED-CAR said that the reopening of the application period for the SIKAP is still uncertain as of the moment. Interested individuals may wait for updates regarding the opening of application for the said scholarship program from the GPO.
Dr. Marchan hopes that the SIKAP grant will aid UP Baguio in the promotion of its graduate programs, specifically the Indigenous Studies Program, which was offered for the first time in the First Semester of Academic Year 2021-2022. He says that CHED is always willing to help in advertising courses that will be able to feature the rich culture of the Cordilleras in various fields of research. The signing of the MOA with CHED serves as the affirmation of the commitment that UP Baguio has regarding this matter, and in the creation of graduate programs that will benefit not only its students but also the communities that are within its scope as a research university.
---
Seen here are participants at the CHED-DARETO Technology Transfer on Livelihood Training
at Barangay Pacdal Gym last November 26, 2021. Photo by Authors.
Technology Transfer for Livelihood Training
of CHED- DARE TO Project to Local Communities
by: Ashlyn Kim Balangcod and Teodora D. Balangcod
The CHED-Dareto Cycle II Project under Dr. Teodora Balangcod conducted another Technology Transfer activity entitled "Livelihood Training on Underutilized and Neglected Food Crops" last November 26, 2021 in Barangay Pacdal. In coordination with Brgy. Capt. Abraham Lagasca, Treasurer Janet Molintas, Livelihood Chairman Linda Dulo and other officials, the training was successfully carried out at the Barangay Pacdal covered court. Dr. Balangcod and her team of research assistants (Mabel Papco-o, Rachelle May-os, Lheslie Cawilan, Arra Batangan, Kryssa Balangcod, Lance Licnachan and Lemuel Balloyan) carried out the training and assisted the participants. The activity was also observed and documented by Prof. Paz Esperanza Poblador, a faculty of the UP Baguio Institute of Management.
Despite the number of women and men who expressed their interest in attending the activity, the participants were limited to 30 to allow social distancing during the training. The participants were residents of Barangays Pacdal and Gibraltar. The enthusiastic participants worked in groups of five or six and were given baking materials, hairnets, and aprons to use for the training. Additionally, all participants were given a training booklet of the various recipes. They were all interested in learning how to create more products from underutilized crops such as gabi and camote for possible business opportunities.
The training started with ice cream making, followed by creation of flour-based products such as polvoron, cake, cookies, and tarts. Training included costing for their products. Aside from the food products, a demonstration on how to make herbal soap from organic materials such as cucumber and aloe vera was also done late in the afternoon.
As motivation, the trainers awarded a prize to the group who satisfied the palette and the eyes of the judges. The Barangay Captains of Pacdal, Gibraltar and Pucsusan, namely Cap. Lagasca, Cap.Huag, and Cap. Mendoza were invited to judge the output of the participants. Prizes were given to deserving winners.
The CHED-DARE TO project entitled "Harnessing the Potential of plant resources in the Cordillera for Drug Discovery, and Promoting the use of indigenous wild plants, and underutilized and neglected food crops as alternative food source and livelihood of local communities" has four major components: Food Product Development, Anti-bacterial Screening of Plants and Topical Drug Formulation, Online Information and Database System, and the Technology Transfer and Extension.
Even though the project was not approved for a second extension and the last tranche of funding was not yet released, the technology transfer component must continue to achieve the goals of the project.
With no funding source at the moment, the materials used during the training were sponsored by generous friends and the CHED-DARE TO study leaders Lemuel Ferrer, Julius Malonzo, Freda Wong, Ivy Inovero, Cheryl Tello, Siegfred and Cirpriano Tucay Jr., John Kenneth Fajardo, Amelia Cendaña, Ashlyn Balangcod, Brenda Marie Dogup, Mary Grace Carpio, Rainphil Inc. c/o Arjay, Kate, Rodelyn and Joseph. The lunches for the participants were sponsored by Mrs. Sol Go, the wife of Congressman Mark Go. The prizes and tokens were sponsored by the enthusiastic trainers and research assistants under the other projects of Prof. Teodora Balangcod. Since this is the first hands-on livelihood training in the two barangays, requests for more livelihood trainings were expressed for future consideration by the team.
The participants are preparing and cooking churros.
Products of the participants.
---
Dr. Rizavel Addawe and team receive
the Gawad Pangulo for Excellence
in Public Service
The research project Exploratory Data Analysis (EDA) of Baguio City COVID-19 cases daily updates led by Dr. Rizavel Addawe received the Gawad Pangulo for Excellence in Public Service on December 16, 2021. This project commenced last year to help monitor the daily attack rate of COVID-19 in Baguio City. This project also keeps track of death rates, vaccination rates, etc. Results of the daily monitoring are given to the Baguio Health Services Office and to the Office of Public Affairs (OPA)-UP Baguio for posting on Facebook.
Congratulations Dr. Rizavel Addawe, Jhunas Paul.T. Viernes, Shielden Grace S. Domilies, Criselda P. Libatique, Joseph Ludwin D. Marigmen, Aprimelle Kris J. Pajimola, Raya Elaine N. Gueco and Donnabel T. Panes. Padayon!
---
Dr. Erlinda Palaganas commended
by Baguio City Officials
Dr. Erlinda Palaganas was commended by Baguio City Officials for her outstanding contribution to the nursing profession. A Professor of Management, Institute of Management, College of Social Sciences, Dr. Palaganas' work centers on public service for nursing and health management. Dr. Palaganas is also a recipient of the 2021 Princess Srinagarindra Award Laureate from the Princess Srinagarindra Award Foundation of Thailand.
Congratulations, Dr. Palaganas! Padayon!
---
FEATURE
The Creative Economy and
Sustainable Tourism
by: Roland Erwin P. Rabang
We just concluded the festival, or didn't you know? The Ibagiw Creative Festival formally opened on November 12 and closed on November 30. In the intervening time, activities have been slated ranging from exhibits and exhibitions, trade fairs, performances, competitions, demonstrations, and lecture series in identified venues all over the city.
This occasion is apparently a nod to Baguio City's membership in the UNESCO Creative Cities Network since October of 2017, the first city in the country to earn such a distinction. Baguio City's contribution to this network is its engagement in crafts and folk art, contending that the city is endowed with an "artistic culture" and forms its identity along this premise.
The creative city concept was an offshoot of the ratification of the UN Sustainable Development Goals in 2015 which calls for inclusive growth among others. The mantra emanating from the UN is to leave no one behind. This principle brought attention to the creative sector because they are supposedly a part of a demographic where traditional economic investments are not readily infused.
The creative cities network is established to steward and ensure the involvement of society's creative group in developmental policymaking. This elevates the creative community from its previous status as a passive actor in a locality's economic infrastructure, to one that produces goods and services on an industry level.
A locality's economic infrastructure thus, provides an initial glimpse into the possibility that it might possess the attributes of a creative city. In the case of Baguio, it has long been stipulated that its economic backbone is a service-oriented tourist economy where one of its primary allure is its rootedness in indigenous culture.
Within the customary economic framework that Baguio is a tourist spot which heavily relies on the patronage of visitors, culture then became a commodity that served to draw on tourists en masse, on a promise of a cultural experience based on performance, as well as the possession of cultural goods as a holiday memento. Within the purview of Baguio's traditional economic framework, culture is a consumer item, and for a time this was the norm.
Since one integral component of a creative city is culture, how then does it differ from the well-established tourism economic framework that advocates cultural pride and pride of place to begin with?
One important point that must be mentioned here is that tourism is not being seen to have created adverse outcomes so that the creative cities concept is regarded as the better alternative to a tourist economy that we have been accustomed to. After all, the tourism sector provides employment opportunities, and it has a diverse economic service base ranging from transportation to accommodation.
A prevalent criticism to the tourism economic model, however, is the idea that mass tourism is unsustainable due to its tendency to yield ecologically harmful by-products such as accumulated waste and the destruction of fragile environments due to unregulated visitors' activities. But tourism is also within the scope of UN policies as it issues a call for sustainable tourism through the UN World Tourism Organization. Thus, from mass tourism, it also talks of alternative tourism, and balanced tourism development.
The "creative city" concept, however, is said to encompass more than the human and ecological collision. The artists and artisans that produce cultural goods and services through the crafts and folk arts engagement must be emancipated from their usual role as cottage industry suppliers, not obtaining the true worth and value of their work while traders reap profits in the international market.
This time, the creative sector is endowed with agency in that it will benefit from official governmental policies that will elevate outputs in crafts and folk art from a cottage industry into a creative industry that contributes to the local gross domestic product and GDP per capita. For this reason, there is a push not just from government but all sectors to boost public and private investor confidence in the creative industry. At least that is the idea.
Four years since Baguio's inclusion into the creative cities network, we have seen the determination of its multi-sectoral advocates to prove that a creative economy is indeed more sustainable. The Covid-19 pandemic upended our notions of a robust tourist and visitor economy as lockdowns and isolations brought the economy to a standstill.
But we might recall that it was the creative sector that provided the city's tepid economy with a cultural ventilator when life-saving vaccines was yet a pipe dream. The "creative economy" and "sustainable tourism" are both in the vocabulary as we mark this year's run of the Ibagiw Creative Festival. Whether these terms are mutually exclusive or there are aspects in them that intersect, we will know from official decisions as Baguio winds its way towards ""re-opening the economy."
This is the Ibagiw Creative Festival 2021 Calendar of Activities. The "Breathe Baguio"
logo wasccreated by Fara Martia Manuel-Nolasco. Screen grab from:
Baguio Creative City Facebook page https://www.facebook.com/BaguioCreativeCityOfficial
---
CREATIVE NONFICTION
Photo taken by the Author.
Stroke of Luck
by: Jasmin G. Bayquen
Friendship, like most relationships in life can be a hit or miss kind of thing. Personally, I believe friendship should be easy. It's about feeling connected to another person without drama, competition, jealousy or negative emotions. Affection is enduring no matter the distance or time. There are friendships that bloom early and last a lifetime, but there are those that take time to blossom or several tries to flourish. I met Susan in high school, but it took decades for that acquaintance to turn into friendship.
Sometime in 2015, my phone rang around 9 at night flashing an unknown number. I usually ignored unknown callers, but the ringing was insistent. I reluctantly answered thinking it must be important if someone was calling me late at night. Just as the number was unknown, the voice at the other end was too. The voice was asking if I knew a person named Sharon because the last number Sharon called on her phone happened to be mine. So, I sat up and cautiously said yes. I knew a person named Sharon. Sharon was a classmate in high school I recently connected with, and she taught a body combat class I attended just a few days before. I was sleepy and I was still waiting for the reason Sharon was featured in this call or why I was getting the call at all.
Nandito po siya sa ER ng BGH. What?! That woke me up and made me pay attention to the caller. I started asking questions, but the bottom line was, she had a mild stroke, was alone and having been the top name on her call list, hospital personnel thought to inform me. I quickly dressed and scribbled a note for my son in case I would not be home when he woke up. I drove to the hospital and a familiar face greeted me when I was parking at a curb which I hoped was a parking zone. Susan was another high school classmate who had gotten a call because like me, she reconnected with Sharon at the body combat class. We were able to sort the situation rather quickly and stayed with Sharon in the stroke ward. It was midnight when her mother arrived from La Union, so we were told to go home because she would take care of her daughter.
Since that night of 2015, Susan and I have not lost touch and faithfully kept tabs on each other. We stopped attending exercise classes together, but we do share other activities related to other common interests: cooking and baking. However, Susan has an interest that I do not share. She is most passionate about coffee. She has studied pretty much everything there is to know about it. I do not exaggerate, but rather I understate. When most people say they are into coffee, they usually mean they like to drink it. She has gone beyond drinking the brew, though like most people, that's how she probably got hooked on all things coffee. She wanted to make good coffee, so she studied to be a barista. She decided to learn how it was planted, how it grew, the varieties available and the suitable climate for each, the time to harvest, how to harvest fruits for optimum results. The search for that perfect cup continued when she learned how to roast beans. Yes, it's not just a matter of throwing raw beans on a pan on a stove and stirring until the beans turn brown. There is an art to it which involves specialized equipment and technique. Finally, she became a Q grader. She is one of few trained coffee specialists in the Cordillera who can evaluate coffee during what is called a cupping. So, what does one like her do with all that knowledge? Sell coffee? Quite right!
A few years ago, she put up her own coffee shop in an eco-park her family owned somewhere in La Trinidad. The first time she brought me up there was during a stormy day. Rain cleared around 7:30 in the morning, so I asked if she was open. She had decided not to open, but since the rain stopped, she felt she should. Besides, I told her we had a guest from Ateneo de Manila University who would be interested in seeing her place. We met her at Camp Dangwa, and she led the way on what I felt was a vertical hike of a slippery, muddy, mountainside. There was another way up the mountain which was easier and probably more pleasant, but she showed us what was probably the path least taken. Granted, going up was verdant and beautiful, but I kept thinking if I slipped and broke my neck, I'd haunt her for the rest of her life. Luckily, I kept my footing and my neck. There is no need to haunt.
Whenever I feel like getting away from my everyday hustle and bustle, I try to visit Susan in her mountain. I have learned to take the more agreeable way to the café, and I have never felt the need to revisit the Camp Dangwa route to her place. I have also accepted that going up to her place means taking a breather because no matter how many times I try to work up there, I am never successful. I have brought my son, family, and friends over the years to enjoy not only her coffee, but the wonderful view of the valley below, the rock formations, the short invigorating hike to the café, the feel of the fog when it rolls in the afternoon, the breeze that's constantly blowing on her deck, and the warmth that friendship offers when I walk through her café door.
The Kape-an at Mt. Kalugong is Susan's domain which I visit once in a while. I do not drink coffee, but I know where good coffee can be found. And this friendship I have with Susan would not be possible without that fateful phone call about Sharon having a stroke. Not that I wish anyone to have a stroke, but it was a stroke of luck to have reconnected with Susan at that time.
Susan and Jasmin in Kape-an, Mt. Kalugong.
Photo taken by the Author.
---
CHRISTMAS AT UP BAGUIO
Christmas Message from the Chancellor
Today, I want to share with you a poem to celebrate this season. I like to think that this poem gives us a glimpse of what we experienced for almost two years. I will share with you excerpts from the poem titled "Amazing Peace" by Maya Angelou.*
"Thunder rumbles in the mountain passes
And lightning rattles the eaves of our houses.
Flood waters await us in our avenues.
Snow falls upon snow, to avalanche
Over unprotected villages.
The sky slips low and grey and threatening.
We question ourselves.
What have we done to so affront nature?
We worry God.
Are you there? Are you there really?
Does the covenant you made with us still hold?
Into this climate of fear and apprehension, Christmas enters, streaming lights of joy, ringing bells of hope and singing carols of forgiveness
high up in the bright air.
The world is encouraged to come away from rancor,
Come the way of friendship.
It is the Glad Season.
Thunder ebbs to silence and
lightning sleeps quietly in the corner.
Flood waters recede into memory.
Snow becomes a yielding cushion to aid us
As we make our way to higher ground."
The poem takes us back to the rapture and changes – the volatile, uncertain, complex and ambiguous life we had for almost two years. The poem speaks of how we cope despite the difficulties and the efforts of our colleagues, health workers and responders to make survival a little bit easier and to ensure a safe campus shows selflessness and dedication.
While the COVID-19 crisis reminds us of our shared fragility, it also demonstrates how everything and everyone is truly connected. So, I'm taking this opportunity to thank all of you (the faculty, REPS, admin, retirees and alumni) for staying with us through the difficult times and coming today for this community lunch. The poem also reminds us of the promise of hope and peace, our simple get-together today, despite its limitations, is our expression of hope and peace. In Maya Angelou's poem, "it is Christmas time…a halting of hate time… hate which crouches breeding in dark corridors), a harmony of spirit, a comfort of courtesies…" and security for our loved ones.
We are finally brought together as one family standing together to build a better future for UP Baguio as we celebrate our 60th anniversary. Let me take this opportunity to thank all the academic units, offices, students and alumni who contributed to the many activities we had for the year 2021, our 60th year.
On this platform of peace and hope, we look forward to 2022, mindful that the coming days and months will continue to bring us serious challenges and great trials as we prepare for the blended and face-to-face classes, fast-track our infrastructure projects, make the campus safe for everyone, and mind the health of our students and employees. We will diligently take our tasks, confront the problems and issues and positively believe that there are moments of hope, grace and redemption.
It is in these moments of hope, and as we celebrate Christmas, that the seed of renewal is planted for enduring this time of uncertainty and building a brighter future for our beloved UP Baguio. So let us welcome 2022 with renewed hope and may we return to work with double the zeal.
I end with my wish for a peaceful, joyful and meaningful season to all of you and your loved ones. Merry Christmas!
---
*Angelou, Maya. (2005). "Amazing Peace: A Christmas Poem." In Amazing Peace: A Celebration by Maya Angelou. U.S.A.: Random House.
---
This Christmas Message was delivered by the Chancellor during the UP Baguio Community Lunch on December 15, 2021 at the Museo Kordilyera grounds.
UPB unveils the new flagpole and marker
and lights up the campus
On the left is raising of the Philippine and University of the Philippines flags by female cadets on December 2..
On the right is the evening lighting of the UPB campus on December 2. Photos by: Prof. Roland Rabang
In the morning of December 2, 2021, to formally start the celebration of the 60th year of the University of the Philippines Baguio, the UP Vanguard, Incorporated (UPVI), refurbished the flagpole and marker on the Oblation Grounds. This is part of their contribution and giving back as alumni of UP Baguio. The new marker installed at the foot of the Oblation is a way of remembering the soldiers who dedicated themselves in fighting for our nation's freedom. In the evening, UP Baguio observed the annual lighting ceremony.
Starting the celebration of the 60th year of UP Baguio with a cañao and traditional Cordillera dance, Dr. Mario Imson, alumni and member of the UP Vanguard, Inc. said that the refurbished flagpole and marker also demonstrate their loyalty to their alma mater. In her speech, Chancellor Corazon L. Abansi said that December 2, 2021 is also a day of being grateful for the hard work of former alumni, Deans and Chancellors who built and shaped UP Baguio. The Chancellor also said that it is also a day of remembrance and "the flagpole and marker is a reminder of our identity as Filipinos, UPians and part of the ASEAN…December 2, 2021 is a way of looking back at what we have formed but more importantly looking onwards to transformation."
This is a Cordillera dance performed at the Oblation Grounds.
Photo by: Prof. Roland Rabang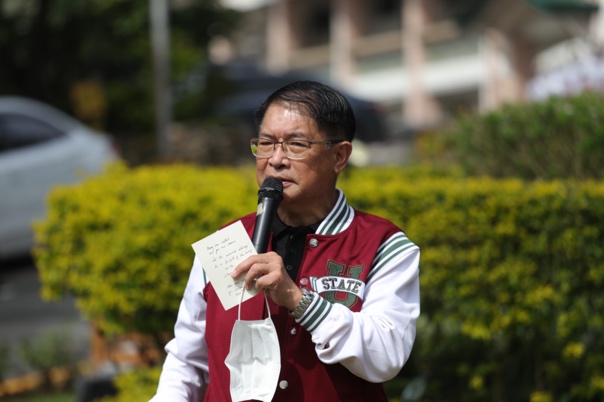 Dr. Mario Imson, member and officer of the UP Vanguard, Inc.
spoke during the dedication of the refurbished flagpole and
marker of UP Baguio.
Chancellor Corazon L. Abansi delivering her message.
Photo by: Roland Rabang.
During the lighting of the campus to celebrate the Christmas season, the University of the Philippines Baguio faculty, alumni, administrative staff and reps, gathered together in the evening at the Oblation Grounds. A yearly tradition, the lighting of the UPB campus signals the start of the series of events celebrating Christmas and welcoming the coming year.
The Oblation Grounds.
As people experienced the pandemic accompanied by rigid guidelines on social distance, the lighting of the campus was a welcome event for everyone. As Chancellor Corazon L. Abansi said in her speech,
"We are lighting the University of the Philippines campus to illuminate what we have accomplished for the past years and what we will be accomplishing in the years to come. This lighting is to keep that fire burning – that yearning when we say, 'In a campus on a hill, where the fog touches the ground, and the wind blows in every direction,' we are steadfast when we narrate and claim that in the University of the Philippines Baguio, the campus on a hill, all is well and will be at our best.
The decorating of the campus this year was headed by Prof. Victoria Diaz, Director of the Human Resource and Development Office (HRDO), and supported by her staff and the Campus Maintenance Office.
Left is Don Juanito Escobar opening the program with the song "UP Baguio,
UP sa Hilaga." Right is Chancellor Abansi turning on the light switch
assisted by Mr. Wilfred Miranda.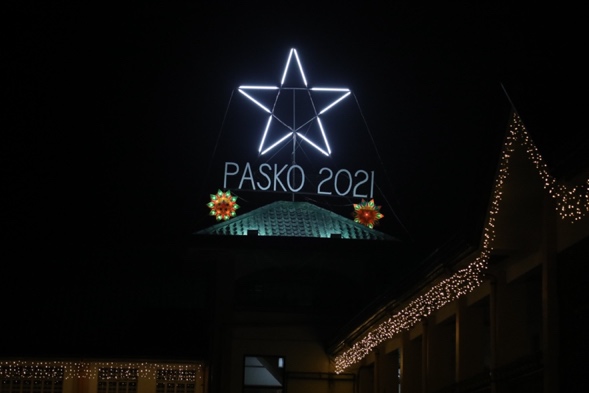 Left, "Pasko 2021" displayed on the roof of the Iskolar ng Bayan Building. Right, Christmas balls and other decorations.
Watch the highlights of the Unveiling of the Flagpole and Marker and the Christmas Lighting Ceremony posted on the UP Baguio Facebook page.
---
UPB Community Lunch
After a year of not seeing each other face-to face, and with the relaxed guidelines of the IATF for this month, the University of the Philippines Baguio took the opportunity to gather together on December 15, 2021 for the Community Lunch. Held at the Museo Kordilyera grounds, the faculty, administrative staff and REPS gathered and enjoyed the annual event.
The decorating of the Museo Kordilyera grounds was headed by Prof. Victoria Diaz and the Human Resource and Development Office, with Philip De Vera of the Office of the University Registrar. Intermission number is by Willy and the Poor Boys who serenaded the members of the UP Baguio Community with their songs. The most surprising number is from the faculty administrators who sang Filipino Christmas carols. Games, such as "Best Plantito/Plantita" enabled the participants to exhibit their office plants, and the "Most Creative Mask" showed the artistic side of faculty members, administrative staff and REPS who joined.
The UPB Community Lunch brought cheer to everyone who attended.
The two Master of Ceremonies, Gerardo Malicdem
and Ruel Lestino.
Willy and the Poor Boys.
UP Baguio Faculty Administrators singing for the UPB Community.
Most Creative Face Mask contestants.
---
UPB Community members.
From Left to Right, Dr. Santos Jose Dacanay III-Vice Chancellor for Administration,
Dr. Corazon L. Abansi-Chancellor, Dr. Priscilla Supnet Macansantos,
Prof. Jessica K. Cariño, Dr. Lorelei Mendoza and Dr. Rosemary Gutierrez-Vice Chancellor
for Academic Affairs.
UPB Celebrates its Retirees
The University of the Philippines Baguio celebrated its retirees for the year on December 15, 2021 as part of the UPB Community Lunch program. Dr. Priscilla Supnet Macansantos, three full term Chancellor of UP Baguio, Dr. Lorelei Crisologo Mendoza, former Dean of the College of Social Sciences, and Prof. Jessica Thomasina K. Cariño, three full term Vice Chancellor for Administration, retired this year. Acknowledging their huge contribution to UP Baguio through academic leadership and institution building, the Chancellor delivered this message celebrating their accomplishments as women leaders.
Reading parts from the book "Women Who Run with the Wolves" by Clarissa Pinkola-Estés*, the Chancellor described how the three women retirees broke the archetypal woman concept by emphasizing wildness as being bold, instinctive, creative and wise which are necessary traits in academic institution building. Below is the full speech of the Chancellor.
" 'Women Who Run with the Wolves' by Clarissa Pinkola-Estés (Pinkola-Estés, 1992, 12-14) elaborates on the wildness of women. I see this concept of "wildness" as an encapsulated version of women's full power to lead. I draw from this interesting work in my attempt to capture how Dr. Priscilla Macansantos, Prof. Jessica Cariño and Dr. Lorelei Mendoza served as academic leaders of this University. For me, and for many of us, who witnessed how they lead, the "wildness" of these three women have seen us through.
With the Wild Woman as ally, as leader, model, teacher, we see not through two eyes but through the eyes of intuition. When we assert intuition we are therefore like the starry night: we gaze at the world through a thousand eyes. The Wild Woman carries the bundles for healing; she carries everything a woman needs to be and know. She carries stories and dreams and words and songs, and signs and symbols. She is both vehicle and destination.
She can track and run and summon and repel. She can sense, camouflage, and love deeply. She is intuitive, typical and normative.
She is intuition, she is far-seer, she is deep listener, she is loyal heart.
She is ideas, feelings, urges, and memory. She is the source, the light, the night, the dark, and daybreak. She is the voice that says, "this way, this way."
She is the one we come home to. She is the things that keep us going when we think we're done. She is the incubator of raw little ideas and deals. She is the mind which thinks us, we are the thoughts that she thinks.
She leaves footprints for us to try for size. She leaves footprints wherever there is one woman who is fertile soil.
Where does the Wild Woman live? She is with us.
Stories are medicine… they have such power; they do not require what we do, be, act anything—we only need to listen."
'For the remedies for repair and reclamation' (1992, 14) are carried by Dr. Priscilla Supnet -Macansantos, Dr. Lorelei Mendoza and Prof. Jessica Cariño—more than their work and service to this University, it is their wildness, their being empowered women, and through their leadership that shaped the story of the University of the Philippines Baguio.
And it is their stories that will guide us in continuing the narrative of our University.
I am thankful that I had the opportunity to work with these three empowered women, they are different as individuals and yet similar in being effective leaders. In behalf of the University of the Philippines Baguio, please accept our sincere gratitude and appreciation."
*Pinkola-Estés, Clarissa. Women who run with the wolves. U.S.A.: Ballantine Books.
---
Gawad Tsanselor, Loyalty and Service
Awardees and Special Citation for the year 2021
The University of the Philippines Baguio recognized and awarded this year's Gawad Tsanselor recipients, Special Citation for Research and Publication, Loyalty and Service Awards.
Recipients of the Gawad Tsanselor:
Pinakamahusay na Senior Faculty – Dr. Analyn Salvador-Amores
Pinakamahusay na Junior Faculty – Prof. Jose Mathew P. Luga
Pinakamahusay na Empleyadong Administratibo– Mr. Ruel C. Lestino
Pinakamahusay na REPS – Ms. Amelia C. Cendaña
Recipients of the Special Citation for Research and Publication for 2020-2021:
Dr. Rizavel C. Addawe
Mr. Maverick N. Tamayo
Loyalty and Service Awardees:
10 years – Dr. Paul Samuel P. Ignacio
15 years – Ms. Maria Elena G. Balleta; Mr. Jay M. Mapalo; Prof. Aris A. Reginaldo
20 years – Mr. Luisito S. Almurung; Ms. Jocelyn D. Dagusen; Ms. Julieta S. Dela Peña; Prof. Victoria Lourdes C. Diaz; Prof. Giovanni M. Malapit; Prof. Analyn Salvador-Amores; Mr. Rodolfo T. Suyat Jr.
25 years- Prof. Cecilia Fe S. Abalos; Prof. Charita A. Delos Reyes; Prof. Maria Ana B. Diaz; Ms. Jennifer A. Geronimo; Mr. Wilfred Herman E. Miranda; Prof. Erlinda C. Palaganas
30 years – Mr. Antonio C. Alambra; Mr. Montano L. Calica; Ms. Gloria Q. Rodriguera; Prof. Maria Cecilia R. San Luis
35 years – Prof. Wilfredo V. Alangui; Prof. Maria Nancy B. Florendo
40 years – Prof. Maria Nela B. Florendo
---
CALL FOR CHAPTER PROPOSALS
A Reader on Indigenous Studies in the Philippines
Indigenous Studies is an emerging field in formal academe, evolving out of an ongoing synergy among Indigenous communities, researchers (both Indigenous and non-Indigenous), organizations, and government institutions. With the newly launched Ph.D. in Indigenous Studies, the University of the Philippines Baguio continues to build the foundation of Indigenous Studies in the Philippines. Recently, the College of Social Sciences conducted a three-day Virtual Conference on the theme of the Indigenous Peoples' Rights Act. "IPRA @ 24: Charting developments on the Philippine Indigenous Peoples Rights" included presentations concerning language, education, cultural rights, development, and gender. Much work is needed on current issues, concerns, and problems that affect Indigenous peoples to build informed approaches and actions in the service of Indigenous communities and to chart the course for future scholarship.
The proposed book explores various aspects of Indigenous Studies in the Philippines. The papers will showcase the variety of work in Indigenous Studies, the diversity of theories and methods, and the depths of Indigenous knowledge and practice in the Philippines. More importantly, the authors will engage in a critical reflection on and about the idea of "Indigenous Studies"; how knowledge is produced and utilized in various platforms such as in policy, program advocacy, and development work; and how knowledge and actions positively impact Indigenous Peoples.
The book builds on various studies on the elements of Indigenous Studies and identifies entry points that one may pursue for future research, programs, and activities on Indigenous Studies in the Philippines.
Research compiled in the reader will be utilized as learning materials for the classes of the PhD in Indigenous Studies graduate program of UPB, as well as being used as curricular material for Indigenous Studies around the globe. In keeping with its ethos of highlighting Indigenous epistemologies, the reader will also serve as a systematic recording of Indigenous ways of knowing and practicing research as a community.
The target audience of this book includes researchers, faculty, and students who are interested in various aspects of Indigenous Studies. Although the main target audience will be scholars and students in the Philippines, we expect that the volume will be of great interest to others working in Indigenous Studies in Southeast Asia and around the globe. No volume like this currently exists for the Philippines or for Southeast Asia and volumes of comparative global Indigenous Studies rarely include material from Southeast Asia, so we expect to find wide audiences. The volume will also serve advocacy organizations, people's organizations, non-governmental organizations, and government bodies that work with Indigenous peoples in the Philippines.
Recommended topics
Papers may vary in form and style and deal with various data sources, as is appropriate for the writer's discipline. Single-discipline, interdisciplinary, and transdisciplinary approaches may be utilized. Recommended topics include (but are not limited to) the following:
Indigeneity and Constructions of Indigenous identities
Decolonization and Indigenous epistemologies
Indigenous knowledge and education/the academy
Social justice, ethics, and sustainability in development
Indigenous economies and natural resource management
Wellness and Indigenous health systems
Indigenous knowledge and information technology
Issues on Indigenous knowledge: appropriation, protection, positionality, etc.
Indigenous research methodologies and ethical practices
Languages, Literature, and Indigenous people
Indigenous peoples in media and literature
Indigenous spirituality/cosmology
Gender and sexuality in Indigenous communities
Indigenous psychologies and mental health
Heritage, material culture, and Indigenous peoples
Ethnomedicine, Ethnobotany, and Ethnomathematics
Indigenous peoples, rights, and political institutions
Indigenous peoples, economics, and finance
Indigenous Sovereignty
Submission Format
1,000-2,000 words, Times New Roman size 12, 1.15 spaced
Submit by January 30, 2022 to: cssdean.upbaguio@up.edu.ph
Subject line: IS Reader Chapter Proposal [LAST NAME]
Important Dates
January 30, 2022: Submission of Chapter Proposals
February 28, 2022: Notification of Chapter Proposal Acceptance/Non-acceptance
April 30, 2022: Submission of Full Manuscripts
May 1 – June 30, 2022: Refereeing Period
September 30, 2022: Final Chapter Manuscript Submission
Inquiries may be forwarded to
Leah Abayao leabayao@up.edu.ph
---
EVENTS THIS MONTH